Speechless Season 2 Episode 1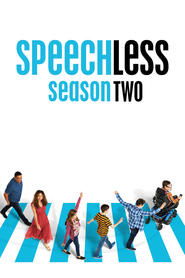 Speechless Season 2 Episode 1
While JJ was at summer camp, Maya decided it's time the family no longer use JJ's disability as an excuse to let their lives fall through the cracks. Maya, Jimmy and Dylan make dramatic changes, but a smug Ray decides he will spend the summer watching his family likely failing at their attempts. When JJ comes home, Kenneth finds a love note in JJ's luggage from Alexa, a girl he met at camp, who wants to give JJ his first kiss. The family chucks their self-improvement projects and hits the road to find Alexa.
Views: 10
Serie: Speechless
Director: Carly Romberg, Christine Gernon, Leah King, Marty Jedlicka
Guest Star: Abhi Trivedi, Chip Chinery, Christopher Darga, Kelly Stables, Nikki SooHoo, Rose Crisman, Rudy Martinez, Sedona James, Tahmus Rounds, Will Pinson Rose
Episode Title: W-E– WE'RE B-A– BACK!
Air Date: 2017-09-27
Year: 2017